The Clumsy Bicyclist
Even though Bonnie's paid medical bills were only $12,500, we were able to show that her future needs were significant.
Case Type: General Negligence
Result: $100,000 Pre-Litigation Settlement
Accidents happen. It's a normal, albeit inconvenient, part of life. This story is about Bonnie, a woman in her 50s who came to us after getting injured in a bicycling accident in Chicago.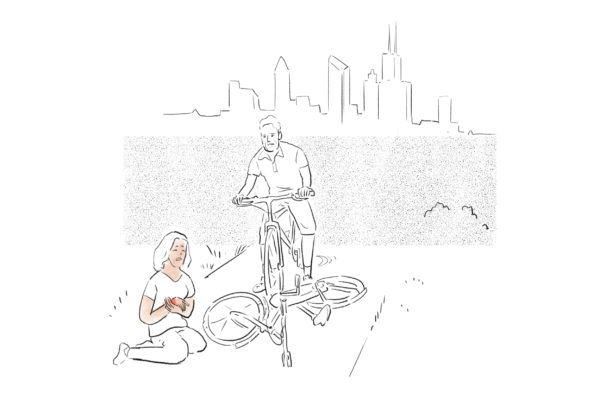 Bonnie is a vivacious, physically fit woman. She had gone to Chicago to visit Frank, an old friend of hers. It was a nice summer day, so she and Frank decided to go for a bike ride. To this day, we do not know if Frank was an inexperienced cyclist or just having a bad day. What we do know is that Frank didn't make it out of the driveway! In fact, while still in the driveway, he crashed his bicycle into Bonnie's, causing Bonnie to fall and break her wrist.
Frank is a good guy, and he felt horrible about what happened, so he did the right thing—Frank provided his State Farm homeowners policy information to Bonnie. Bonnie asked if we could help her get compensation for the injuries Frank negligently caused, even though the injury occurred in Chicago. We handle injury claims nationwide, so, of course, we were happy to help her.
One thing high-volume injury lawyers often overlook is the fact that people who suffer broken bones are likely to develop arthritis later in life, which likely will need future treatment. It is often appropriate to engage a life care planner to monetize the cost of that future arthritis treatment and to include that cost in the demand package submitted to insurance or the damages evidence presented to the jury at trial.
That's exactly what we did for Bonnie. Ultimately, our efforts were successful. Even though Bonnie's paid medical bills were around $12,500, we were able to show that her future needs were significant. Our advocacy resulted in a $100,000 policy limits settlement with State Farm—the best outcome Bonnie could hope for because she had no interest in filing a lawsuit against her friend.
At Riemann Injury Litigation, every client gets individual attention, we handle claims nationwide, and our results speak for themselves. To discuss your case, call us at 816-348-3003, or send us a message and we will get in touch with you right away. Initial consultations are always free.