The Nightmare Roundabout
Andria was driving to the store one morning when an older driver collided with her, causing her Jeep to flip and roll.
Case Type: Car & Truck Accidents
Result: Confidential Settlement
We've written a few stories about cases we prosecuted successfully that other lawyers couldn't quite get their heads around or found too intimidating. The Nightmare Roundabout is one of those stories.
Our client, Andria, came to us after the lawyers she first hired had given up on her case—they were hoping to extract an easy settlement from the insurance company and, when that didn't materialize, dropped Andria as a client.
Here's what happened: Andria was driving to the store one morning when an older driver collided with her, causing her Jeep to flip and roll. At the time of the accident, Andria was exiting a multi-lane roundabout. Fortunately, the incident was captured on video. Unfortunately, Andria probably was speeding and definitely changed lanes while in the roundabout, which Missouri law prohibits. The driver who collided with Andria's vehicle claimed the accident was Andria's fault, and her insurance company agreed.
The question in this case was what actually caused the accident. A lawyer calls this the "proximate cause." Many people do not realize that there are rules of the road that apply specifically to traffic circles and roundabouts. In a multi-lane roundabout, drivers typically are prohibited from changing lanes and some lanes require drivers to exit the roundabout (as opposed to continuing around the circle).
Andria was sure that she had the right of way, but the driver who collided with her, that driver's insurance company, and the first law firm Andria hired all either disagreed or would not put in the time to figure out the answer.
As always, we started by believing Andria, as we do with all of our clients. We then investigated and photographed the accident scene and researched Missouri roundabout laws. Our research led us to conclude that, despite Andria's speed, it was the other driver's illegal lane change that actually caused the collision.
We presented our findings in a demand package that was sent to AMCO Insurance (the other driver's insurer). AMCO's obstinance already successfully dissuaded one law firm to give up on Andria's case, so AMCO tried it again with us—it flatly rejected our demand.
What AMCO did not understand, however, is that we do not give up that easily. After it rejected our demand, we filed a lawsuit on Andria's behalf against the driver who collided with her. We also issued written discovery requests to the defendant and pushed for an early trial setting. Shortly after we demanded the defendant's deposition, AMCO folded and paid Andria a fair settlement, equal to approximately four times her medical bills.
Andria was thrilled—she'd gone from being told it was her fault, to being dumped by the first law firm she hired, to finally getting a fair settlement for her injuries. Andria was a wonderful client, and she deserved every penny she received in this settlement.
At Riemann Injury Litigation, we always give our clients the benefit of the doubt. If you've been injured and need quality representation, call us at 816-348-3003, or send us a message and we will get in touch with you right away. Initial consultations are always free.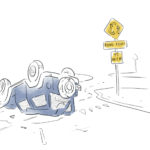 Tim was knowledgeable about the possible risks of the case to help me make informed decisions. He then went above and beyond, negotiating possible claims against my settlement, even though that had no impact to his own fee. Most importantly, he maintained constant communication on the status of the case and treated me with respect and care.
Andria