Simply put, we believe that family is everything, and we are deeply sympathetic to those who have lost their own family members. We fully understand that the unexpected loss of a family member often is emotionally devastating and can be financially devastating, too.
We are here to help. If your family member's death was caused by another party's negligence or a defective product, you may be entitled to bring a wrongful death claim. Common causes of wrongful death are car accidents, collisions with large trucks, motorcycle accidents, accidents at work, medical malpractice, and accidents involving defective products.
At Riemann Injury Litigation, we handle all types of wrongful death claims, and we take great pride in our ability to aggressively pursue compensation for surviving family members while at the same time honoring and maintaining the dignity of their loved one. The Veteran's Dignity and The International Tragedy are stories that highlight how we handle wrongful death claims.
If you've lost a family member and would like to discuss your options, call us at 816-348-3003 or send us a message and we will contact you right away. Initial consultations are always free.
Wrongful Death Case Stories
Glenn
Had the lifeguards done their job correctly, Wyatt likely would have lived.
Glenn
Multiple foreign jurisdictions make it difficult for U.S. Military family living overseas to receive compensation after their son is killed in a vehicle accident.
Glenn
Although a doctor had ordered a special mattress for Jerome and turning every two hours, neither was accomplished by the hospital's nursing staff.
Wrongful Death Testimonials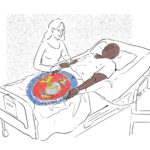 Until I met Tim, I did not know where to begin or who to speak with. At our first meeting I felt as if I had known Tim for a long time.  I just felt this calm and easiness with him.  We spent it seemed like over a couple of hours just talking. He got to know me as well as Jerome and the family.  Well, I did most of the talking.  Tim just listened. I knew from that moment on that I would be able to trust him with this long and painful journey I was about to take on. 
Even though Jerome had not yet passed Tim called and checked on me.  Asked how I was doing and was there anything he could do for me.  That meant a lot!
I knew that Tim had my best interest at heart. And would help me make those tough decisions without any judgement.  If I had questions after our meetings, I could pick up the phone and call.  Tim would listen to me without hesitations and offer advice. I never felt like a client but as family.  Tim took a vested interest in what I wanted the outcome to be for me and my family.   
And after many long months, days, weeks, and hours . . . that day finally came. Tim was right by my side.  Judgement was concluded. I got justice.  After it was over Tim just let me cry and gave me a big hug.  No words needed to be said.  I thanked him for a job well done and being supportive through this ordeal.
I would recommend Tim if you were ever in a situation like this. He shows professionalism, he is caring and thoughtful.  But most of all he LISTENS and lets you be at the wheel.  But he also helps in guiding you in the right direction.
Thank you again Tim, from the bottom of my heart.  You will never know how much you have meant to me.  
Cathy