Most people know that, if you're in a car accident, you likely can receive compensation from the at-fault driver's insurance company. Many people, however, do not realize that homeowners' and renters' policies often carry with them significant personal liability protections that can provide compensation to injured people who were hurt because of someone else's negligence, but whose injuries were not caused by a car accident.
Lawyers often refer to these as "general negligence" cases. We think these cases are fascinating, and we take them on all the time. For example, in The Runaway Horse, we tell the story of a general negligence case involving a client who fell off a horse and received more than $300,000 based on her ex-boyfriend's negligence. You might also enjoy The Broken Leg at the Pizza Party, about our client who was knocked down and injured right after leaving a restaurant—he received $205,000 from the negligent person's insurance company. And don't forget about The Clumsy Bicyclist, a story about a client in Chicago who received $100,000 from her friend's insurance company after he accidentally ran into her while they were riding bicycles.
At Riemann Injury Litigation we give all of our cases individualized attention, and we take great pride in our ability to think creatively to resolve our clients' unique general negligence cases. If you were seriously injured by another's negligence, give us a call at 816-348-3003, or send us a message and we will contact you right away. Initial consultations are always free.
General Negligence Case Stories
General Negligence Testimonials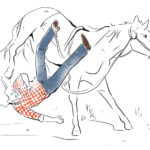 Tim Riemann settled my personal injury case out of court with the insurance company. I am so pleased with the professional and quality service he provided and the results. This is a lawyer I can recommend with confidence.
Kathy