The Broken Leg at the Pizza Party
Sometimes, no matter what you do, the universe just has it in for you.
Case Type: General Negligence
Result: Pre-Litigation Settlement
Sometimes, no matter what you do, the universe just has it in for you. That's what it seemed like for 40-year-old James. Here is his story: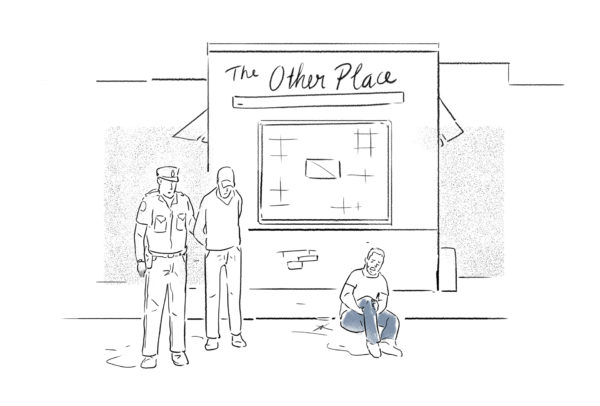 James and his wife had been out celebrating a friend's birthday at The Other Place, a late-night pizza and beer gathering spot in Olathe, Kansas. The party broke up shortly after midnight, at which time James and his wife walked out the front door of the restaurant, heading for their car. Just as James stepped down from the curb into the parking lot, another man—we later learned his name was Dan—collided with him. James fell backwards against the raised curb and broke his leg.
James told us (and we confirmed through witness interviews) that he'd never met Dan before and that neither he, nor anyone else in his group of friends, had any interactions with him prior to the collision. As it turns out, Dan had been in the restaurant, had too much to drink, got in a fight with his girlfriend, got kicked out of the restaurant, and tried to bum-rush his way back inside. James, unfortunately, was standing between Dan and the door to The Other Place. To make a long story short: Dan got a ride to jail; James got a ride to the emergency room.
James did not know any lawyers, but he had a good friend who was an executive with a local company. That friend asked his company's lawyer who to call and that lawyer told James to call Tim.
We immediately liked James. Even though his story sounded bonkers, we believed him. In this business, you come across liars every now and then, and they usually are easy to spot. James, however, came across as a guy who wouldn't be able to lie to save his life. We loved that about him.
The big question was what can we really do to help James. His damages were obvious—he had medical bills from the broken leg and significant pain and suffering. It also was obvious that we could sue Dan, but it wasn't obvious that he had financial resources, and any good lawyer will tell you that suing Dan would be a horrible waste of James' time if Dan cannot satisfy the monetary judgment delivered by the jury.
We needed to find out a little more about Dan. As a result of what happened, Dan had been charged criminally, so, first, we reached out to his criminal defense attorneys—they were no help whatsoever. They did, however, make clear that they only represented Dan in the criminal context and that, to their knowledge, Dan did not have a civil attorney. This was important because it meant that we could reach out to Dan directly, unless and until we learn that he is represented by a civil attorney.
We did a background search on Dan and found his home address. We reviewed local property records and confirmed that he owned his home. Our first letters to Dan went unanswered. Several weeks later, we sent Dan a final letter stating, basically, we're about to sue you so, if you want to get in front of this, you should act now. Four days after we mailed that letter, Dan called. He apologized for not responding to our prior letters, he apologized profusely for hurting James, and he voluntarily provided his homeowners insurance policy to us.
People generally understand that, if they get in a car wreck and hurt someone, their car insurance will provide payment to the injured person up to the policy limits. What many people do not realize is that most homeowners insurance policies, in addition to covering your home and belongings, provide at least some personal liability protection to the homeowner for negligent acts committed outside the home.
Fortunately, Dan was able to tap into the benefits of that insurance to help make James whole. After several weeks of negotiation with Dan's insurance company, we were able to secure an outsized settlement for James, which was more than 20 times his paid medical bills. It was an outstanding outcome for an outstanding guy.
One last thing, as you read our stories, you'll see that many of our clients find us after asking for a referral from someone they trust. Not long after we finished James' case, we received a call from Don, who was badly injured when he fell through a roof on someone else's property. How did Don find us? Well, he asked his son, James, for a referral. (We wish we could write up Don's story, but the insurance company paid so much on his case that we're not allowed to speak of it at all.) There is no greater compliment than when one of our former clients refers their family member to us. Thank you, James.
At Riemann Injury Litigation, every client gets individual attention, and our results speak for themselves. To discuss your case, call us at 816-348-3003, or send us a message and we will get in touch with you right away. Initial consultations are always free.