The Exploding Pressure Cooker
It's not every day that a person tells us they were almost hit in the face by a scalding pork roast!
Case Type: Defective Products
Result: Confidential Settlement
It's not every day that a person tells us they were almost hit in the face by a scalding pork roast, but that's what happened when Caley called. Naturally, we had to hear the rest of this story. Here goes: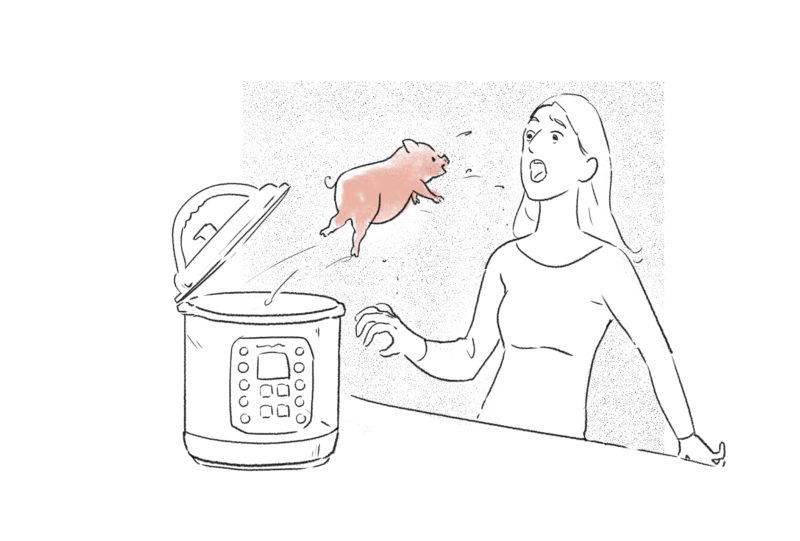 Caley was running behind and didn't have time to cook the pork roast that she had promised her partner for dinner. Caley knew that her mom, who lived next door, owned a pressure cooker, so she went to the house and borrowed it.
Caley set the cooker on the kitchen counter, put the roast in, and set a timer. When operating normally, a pressure cooker should not unlock until the pressure inside it has dissipated. The cooker Caley was using was defective—it indicated that it was safe to open when, in fact, its contents were still highly pressurized.
When the timer went off, Caley went to check on dinner. Much to her surprise, when she opened the cooker, the pork roast exploded straight past her head and hit the ceiling. Although Caley avoided the roast, she didn't escape entirely unharmed—extremely hot water and grease from inside the cooker hit Caley in the face and her arms, causing burns and tremendous pain.
Caley sought treatment at a local burn clinic and, fortunately, her wounds healed nicely. She had a few thousand dollars in medical bills and was wondering if we could help her get some money to pay those bills and, hopefully, some extra for pain and suffering.
We liked Caley and her partner a lot, so we agreed to help. We first contacted the pressure cooker's manufacturer who referred us to its insurance company. That insurance company said the problem was not their fault and referred us to the insurance company of one of its subcontractors. The subcontractor's insurance company fed us the same line as the first one and referred us to a different subcontractor's insurance company, which happened to be in Beijing with no domestic U.S. operations.
As you can imagine, this was going nowhere fast. We decided to call in a favor. We knew the defense attorneys that represented the manufacturer. We called them directly and let them know that we would be filing a lawsuit against their client in very short order. The lawyers hopped right on it, and we had a deal within a few weeks.
Ultimately, Caley received enough money to pay all her medical bills and to almost pay off her student loans. (As with many of our great settlements, the manufacturer of the pressure cooker insisted that we keep its identity and the amount of Caley's settlement confidential.) It was a fantastic result for Caley.
At Riemann Injury Litigation, every client gets individual attention, and our results speak for themselves. To discuss your case, call us at 816-348-3003, or send us a message and we will get in touch with you right away. Initial consultations are always free.